| | |
| --- | --- |
| Description | Qty |
| SpillTech Chemical Pad 400g, absorbs up to 1.2L | 2 |
| Uni-Safe Plus 1800ml Bottle, absorbs up to 75L | 1 |
| Nitrile Glove LowPowder Xlarge | 3pr |
| N95 Duck Bill Mask with Valve | 2 |
| Antiseptic Wipes | 10 |
| Bio Clean Scoop/Scraper | 2 |
| Biohazard Disposal Bag Yellow 480x610mm | 2 |
| Cable Ties 250/pk | 2 |
| SpillTech Instruction Card | 1 |
| Clear Plastic box 9.6 Ltr for kit | 1 |
UNI-SAFE PLUS 18OOML BOTTLE
Non-poisonous, skin compatible and non-allergic.
Non-combustible and dust free.
Super absorbent – absorbs up to 75 times its own weight (1kg absorbs up to 75L).
Safe to use on any chemical* – even the really nasty stuff like hydrofluoric Acid and fuming Nitric Acid.
Raw pH indicators turn yellow when absorbing acids and red/orange when absorbing alkaline.
General spill cleanup
Incredibly light weight making it easy to handle.
Contains: 1800 ml.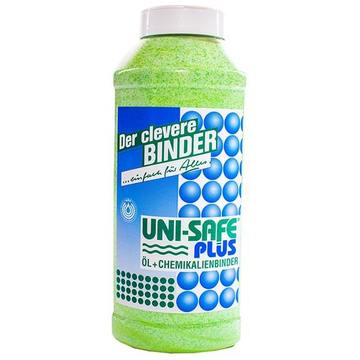 Contact Details
Details of the product above will be automatically included with your enquiry.