Heavy Duty Double Leg Lanyard with Double Action Hooks
Heavy Duty double leg shock absorbing lanyard with two double action hooks, triple locking carabiner and 150kg rated Fall Arrest Block. Available in 2m length.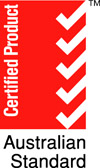 Certified to: AS/NZS 1891.1:2007
Non-adjustable Lanyards
Note: to comply with AS/NZS 1891.1:2007, lanyards can be no more than 2m in length. If you intend to use your lanyard with a D-Ring Extension Strap, be sure to choose the 1.5m lanyard.
» Tested to AS/NZS 1891.1:2007 at 100kg.
» Additional test conducted at 150kg.
» Total deployment may be achieved at fall factor 2 and a mass of 150kg.
Contact Details
Details of the product above will be automatically included with your enquiry.